echo date("H:i:s - d.m.Y"); ?>
Online
We have 31 guests online
Wednesday, 03 June 2015 14:20
Performance Based Navigation (PBN) Implementation Workshop
A PBN Implementation Workshop was held April 29, 2015 at the National Aviation University (NAU) in Kiev (Ukraine) as a special session of theTwelfth International Conference of Science and Technology "AVIA-2015".
This workshop is a component of the international UKRAINE project (UKraine Replication, Awareness and INnovation based on EGNSS), which is part of Horizon2020 programme. The objectives of the UKRAINE project, in line with GALILEO-3-2014 Call, are to foster application development through international cooperation and to create a broad acceptance of EGNSS in Ukraine, while at the same time creating opportunities both for knowledge building and at the commercial level. One of the expectedimpacts of this project is preparation for the extension of EGNOS to the Ukrainian aviation market.
Workshop program:
- GNSS Systems for aviation - Mercedes Reche (PildoLabs, Spain)
- Introduction to PBN - Marc Torres (PildoLabs, Spain)
- Flight Validation of PBN procedures - Mercedes Reche & Marc Torres
- Implementation example - Marc Torres
- UKRAINE project presentation and interim results - Mercedes Reche
- Ukrainian PBN implementation plan – Pavlo Kud (UKSATSE, Ukraine)
- Experience of NAU in investigation and application of GNSS technologies in Ukraine – Svitlana Ilnytska (NAU, Ukraine)
Workshop participants included:
- Volodymyr Kharchenko, Vice Rector of Research, NAU
- Vasyl Kondratyk, Valeriy Konin, and Oleksandr Kutsenko, Aerospace Center, NAU
- Tetyana Shmelyova, Chief of Air Navigation, NAU
- Roman Lykyanchuk, Vasyl Sivolap and Alina Zadorozhnya, State Aviation Administration of Ukraine (SAAU)
- Oleksiy Rudiy, Ukrainian State Air Traffic Service Enterprise (UkSATSE)
- Oleh Petrovskiy, First Deputy General Director for Airlines Investment and Coordination, Kyiv International Airport - Zhulyany
- Oleh Lyubytskiy Chief of Flight Safety Control and Air Navigation, Kyiv International Airport - Zhulyany
- Kostyantyn Volokh
- Svitlana Didkivska, Coordinator of Transport Sector of EU Delegation in Ukraine
- Viktor Sushko, Director, Geoscan
- Valeriy Polishchuk, First Deputy General Director, MASTER-AVIA
- Andriy Kryvovyaz, Head of Marketing Research,Orizon-navigation
Deputy Minister of Education and Science of Ukraine, Maksym Strikha, sent a letter of support with wishes for fruitful cooperation and successful future international projects.
In addition to presentations, the event also included open discussions and debates about different aspects related to PBN implementation. GNSS systems used for aviation, Flight Validation, the Ukrainian PBN implementation plan and the experience of NAU in the investigation of GNSS technologies were some of the topics that sparked interest of participants.
Open discussions took place between representatives from UkSATSE, NAU, Zhulyany Airport and PildoLabs about possible cooperation for implementing PBN instrument approach procedures in Ukraine. PildoLabs, having wide experience on the design and validation of PBN procedures, confirmed that they completely support moving forward with the UKRAINE project's operational implementation of PBN approach procedures in an Ukrainian airport.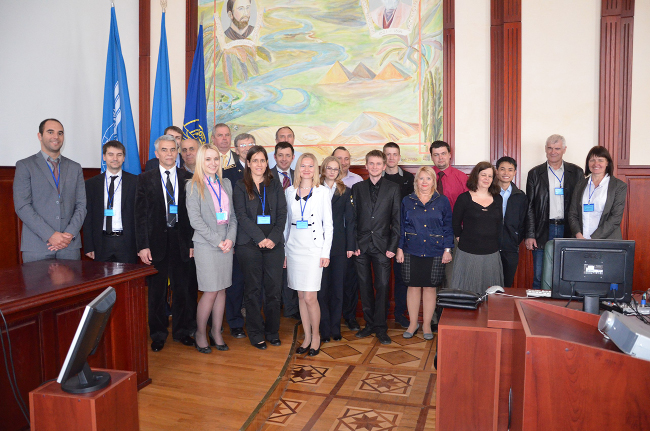 This project has received funding from the European GNSS Agency under the European Union's Horizon 2020 research and innovation programme under grant agreement No641517.