echo date("H:i:s - d.m.Y"); ?>
Online
We have 33 guests online
Tuesday, 31 January 2012 15:45
Purpose: дTo study technology integration satellite radio navigation system, wireless communication, GIS, Internet technologies and ways of building structures grounding equipment micro remote detection and mapping the location of moving biological objects and the creation of a prototype system «VIP-control».
The main results of the work.
The dissertation technology integration satellite radio navigation systems, wireless communications, and Internet GIS, the method of constructing a system of «VIP-control" defined requirements for the structure and software of the system, taking into account that the overall structure of control system of mobile objects must be universal and with minor modifications allow the optimal use of technology monitoring various biological objects.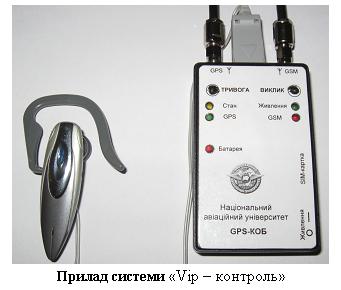 The model of a system «Vip-control» with the appropriate algorithmic and software and conducting laboratory and full-scale tests.
The system allows the operational control of the movement of persons in the performance of critical tasks in order to prevent terrorist actions directed against them but also to control the movement of people of various strata of the population (students, elderly, sick, etc.) requiring remote monitoring and control.
The practical significance of the work lies in the fact that they form the basis for the development of technological procedures for the investigation of information flow in the «VIP-control" for monitoring. This is the expected social impact: improve the reliability of the monitoring process and, as a consequence, increase safety especially important persons and persons who occupy senior government posts, heads of large corporations and their family members, those who perform in certain moment's responsible orders, as well as groups of tourists and rescuers in complex travel routes.