echo date("H:i:s - d.m.Y"); ?>
Online
We have 10 guests online
Tuesday, 31 January 2012 15:52
Purpose: development and experimental testing of hardware and software based on GPS receiver, enabling the accumulation of single GPS / GNSS and their transfer from the consumer's center observations.
The main results of the work.
The developed hardware and software based on GPS-receiver, providing GPS data accumulation and exchange between the users and the processing center observations:
data transmission (GPS / GNSS observations) the user at the center of the automated processing of information-measuring system using GNSS for mobile communication GSM/GPRS;
receiving and decoding messages in a format NTRIP, highlight ingrelevant DGPS/RTK adjustment sin RTCM 2.3 format and implementation of a differential mode definitions in the equipment user.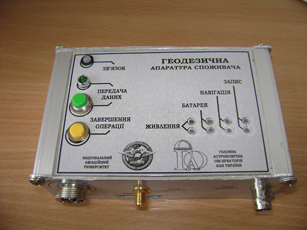 Geodesic apparatus of consumer